Ironing Table.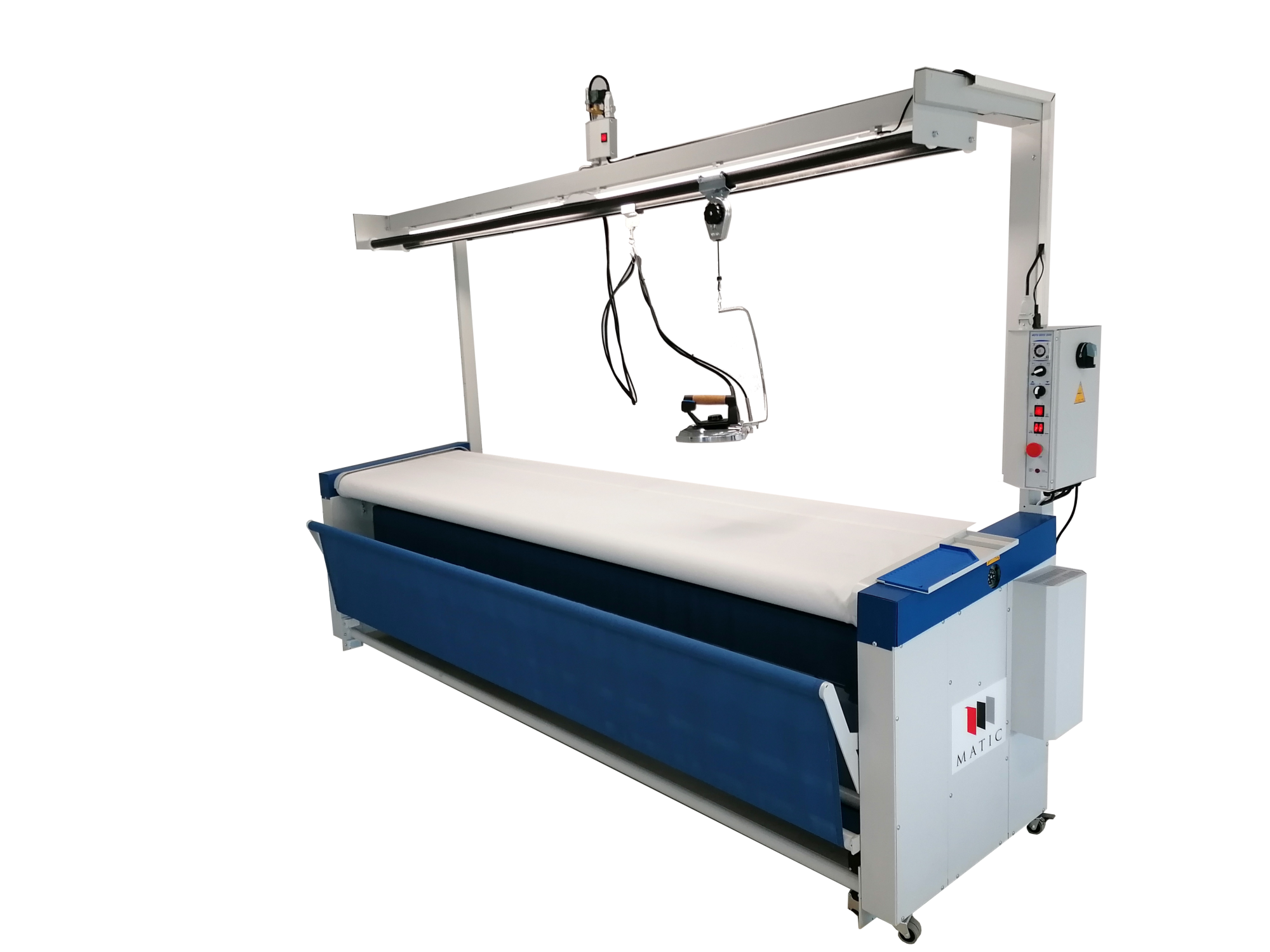 Traditional curtain ironing table equipped with rotating conveyor belt, heated plate, and vacuum. It is a high-quality solution to obtain a perfect finish.

Easy ironing system with ergonomic design for good ironing quality.
300 cm x 55 cm work surface
Machine height: 85 cm
Heating power: 2Kw
Suction power: 2 motors x 0.55 kW
230V F + N / 60Hz electrical voltage
Complies with CE Safety manufacturing and safety standards
Rotary conveyor belt that is activated by photocell
Working modes: Position 0: Steam. Position 1: steam and aspiration at the same time. Position 2: when the steam stops, aspiration starts.
Equipped with two photocells (front and back) to control the ironing belt
Steam and aspiration time control using the push button on the iron
Two vacuum motors.
Two fabric baskets (front and rear)
Slanted ironing surface for easy pulling and ironing of the fabric
Time control of steam and aspiration
Steam lung
Anti-fatigue iron support
Ironing plate
Lighting system.
Increased production thanks to the photocell activated rotary conveyor belt, forwards and backwards, easy tissue placement.
Inclined surface that facilitates ironing and inspection.
Heated work surface with temperature regulator and suction to leave the curtain dry and wrinkle free
Steam and suction ironing, the suction time can be regulated, activated by push button
Two separate motors for more powerful suction on the entire ironing surface.
Steam lung to always ensure dry steam on the iron, prevents condensation of water, does not wet the fabric.
Thanks to its ergonomic design and its characteristics, a non-expert operator can work obtaining an increase in production and a high ironing quality
Heating power: 2Kw
Suction power: 2 motors x 0.55 kW
230V F + N / 60Hz electrical voltage
Complies with CE Safety manufacturing and safety standards