Automatic sewing machine for curtains with conveyor belt for joining two fabrics and applying reinforcement tape on fabric edge / curtain top.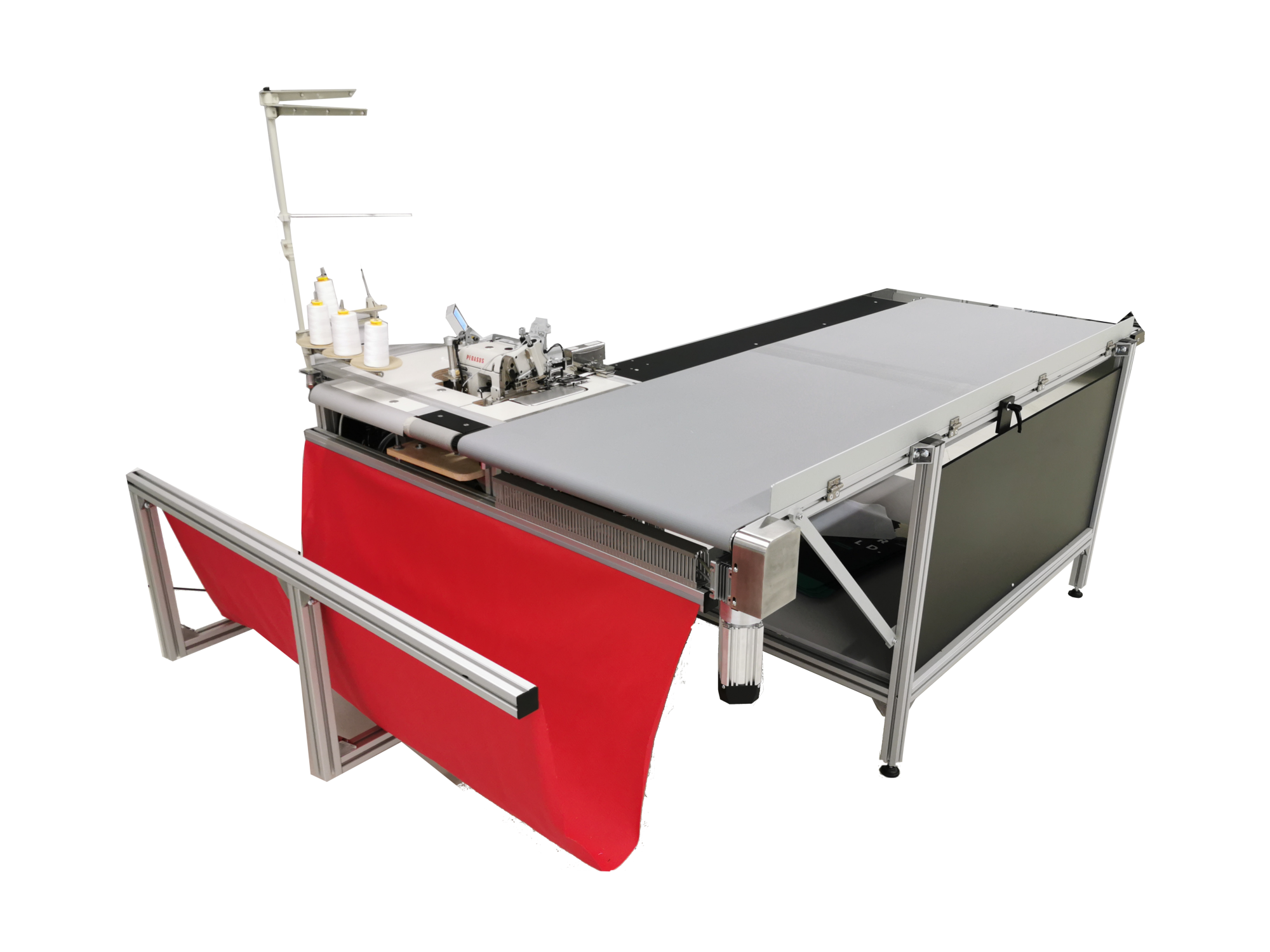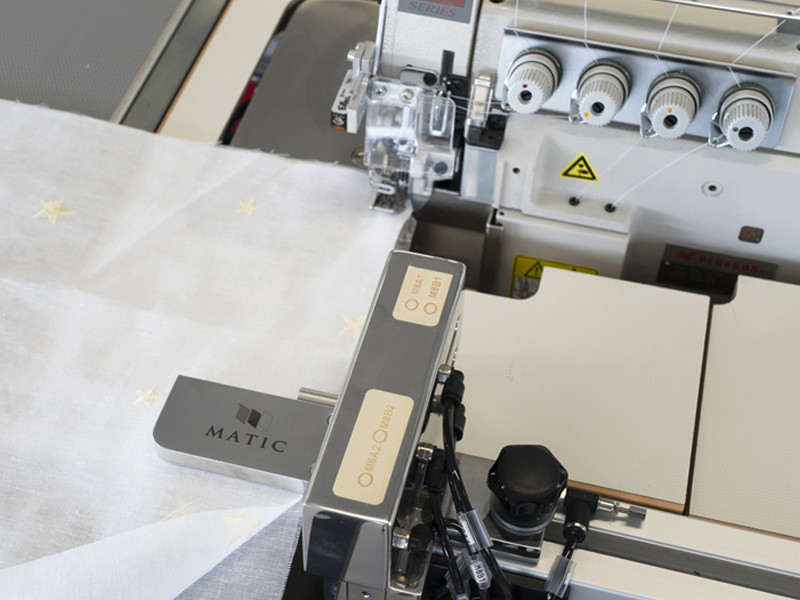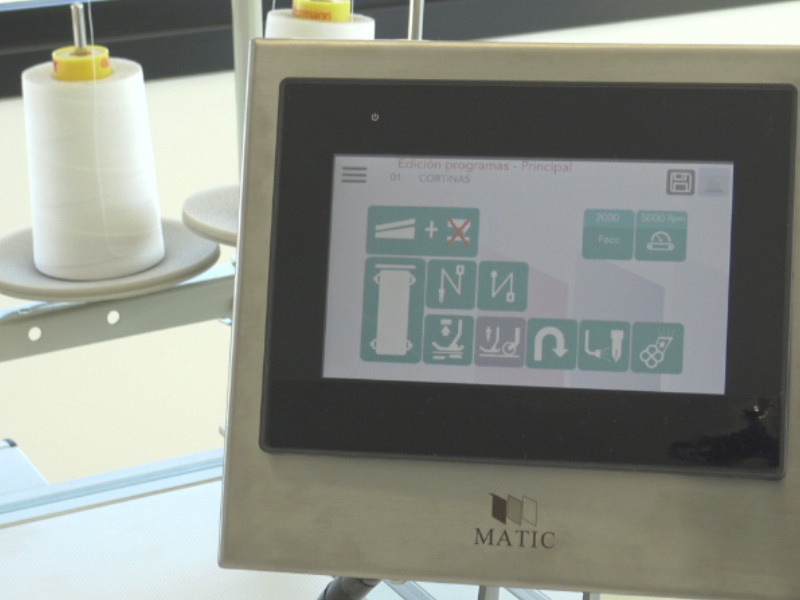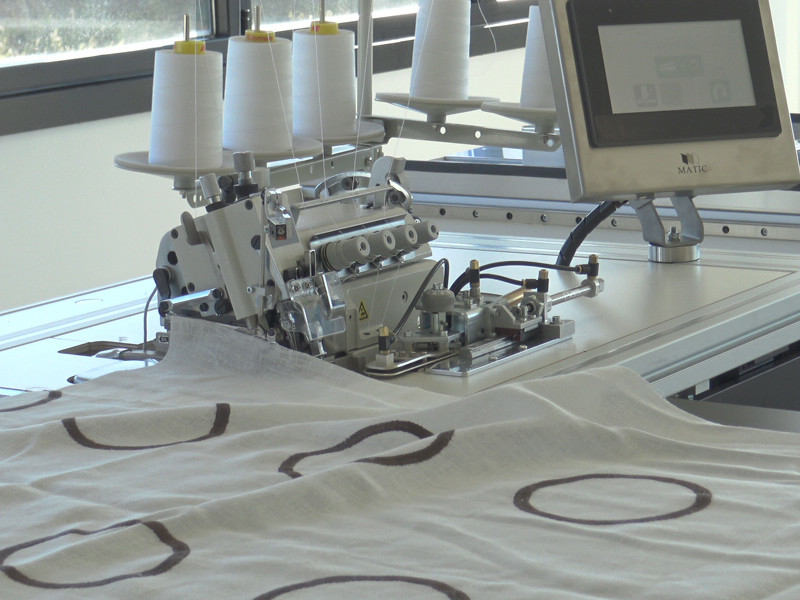 The Nyx Overlock sewing system with automatic conveyor belt is a solution to produce curtains.

It is the most versatile solution for a high-quality sewing of textiles. From a Basic model, this machine can be configured with various options and accessories, making it perfect to fit your production and budget. The Nyx Overlock is quick and easy, it will reduce manufacturing time and increase your production, without the need for a skilled operator.

You will get high quality flat seams for fabric seams and the application of reinforcing tapes to the edge of the fabric / curtain top.

The machine is customized to your needs to suit your regular production.

Now Nyx Family also has the option of Industry 4.0 feature. You can easily achieve production traceability, remote control of operations, and get remote support from Matic.

With Industry 4.0 kit, the sewing program and settings will automatically be loaded by reading the QR code of the work piece.
2-needle, 5-thread overlock sewing head. Double drag.
Conveyor belt synchronized with sewing speed
Adherent conveyor belt
Working modes: manual, semi-automatic and automatic
Machine length: 2500mm (98 ") **
Machine width: 1700mm (67 ") **
Machine height' 1650mm (65 ") **
Weight: 150kg (330lbs) **
7" color touch screen control panel
Electric voltage (EU / US) 220V F + N // 50-60Hz
Air pressure 5-6 bar
Complies with CE Safety manufacturing and safety standards
** Exact measurements are calculated using the metric system. Imperial values only serve as a reference.
Double pneumatic guide for the alignment of the edge of two fabrics.
Entry and exit of the guide to the working position by command.
Workstation designed to work standing up, thus increasing production
Guide position adjustment without tools.
Head with double drag, upper and lower to control the fabric, ensures a flat seam.
Automatic return of sewn material.
Speed control sensor.
Roll support and alignment guide for the bottom reinforcement tape.
Control panel with touch screen.
Additional pedal to handle the conveyor belt independent of the sewing
Folding side to connect a side table for large volume curtains
Basket to collect the material, preventing it from getting dirty and wrinkling
Drawer under the conveyor belt for easy access to storage
Production Work Status - Information on hours worked on the touch panel display.
Maintenance notice.
Remote support via Internet, Wi-Fi or LAN connection
Industry 4.0 kit*
- QR code reader
- Production Traceability and data reporting
*Optional
High production and constant quality without the need for a qualified operator
Completely flat seams and lined fabric edges
Quick and easy change of job type and mode from the touch panel display
A great solution in a small space. Its dimension of only 4m2, allows it to be in any space
Increased production and constant quality, thanks to the ergonomic design of the workstation for standing work that benefits the operator
Pneumatic guides are customized for each application - will adapt to the demands of your production
Ergonomic 7" colour touch screen with adjustable positions according to the operator's posture.
Remote support: Matic engineers can connect to the machine remotely to resolve software incidents or production incidents
Remote access to the software through Wi-Fi or LAN connection, for programming, production data etc.
Optional Industry 4.0 kit:
To achieve traceability of the product by reading QR code of the work piece. The information contained in the QR code (Manufacturing order, Item, and article) ensures the traceability of the product.
QR code also contains information on the program and settings that must be used to sew the application: thread tension etc. - avoiding errors and / or quality problems.